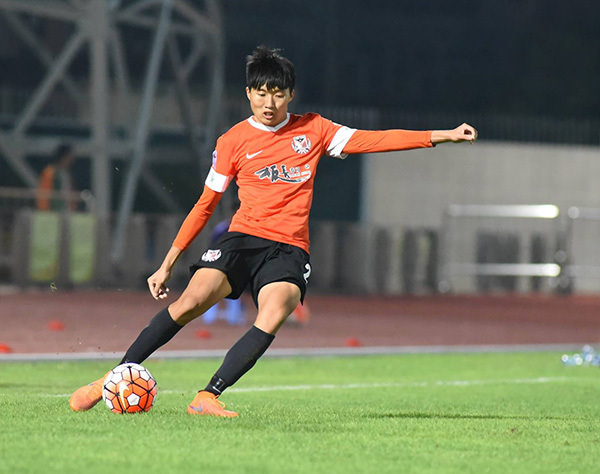 BBA Business Economics'16
Ka-ming Lau
His wardrobe is full of football shirts. This is Ka-ming Lau, football enthusiast.  Instead of dressing up in business suits, he wears football shirts. They are his signature, and no words are better than dynamic and energetic to describe Ka-ming. He plays for Hong Kong Premier League team Yuen Long Football Club and dreams of hitting the big time one day.

Ka-ming's football story started in primary school.  Unlike kids nowadays, his childhood wasn't occupied by smartphones, rather with a football at his feet. Since the age of seven, he spent every summer vacation with friends playing on the football pitches, and his early interest in football developed into an abiding passion. As a teenager he got into serious soccer training, and found himself dedicated to this most passionate of sports. Whenever he meets trouble or frustration, football is his outlet.
Never say never
He spends most of his time on football, since entering university at least four days per week. Most of his fellow students are keener to do part time jobs during spare time. But for Ka-ming, football fills his schedule, sweat his perennial reward.  "I can't imagine my life without soccer. I feel comfortable with football, no matter how hard the training is. The sense of achievement outweighs everything."
Mistakes and Reflection
Representing the Hong Kong National Football Team is the goal of every local football professional player, and Ka-ming is no exception.  He aims at steady improvement in every football practice, and he can't afford to relax at any moment. "I don't want to lag behind. My only goal is to strike for excellence." Playing for the club for the first time he learned something. "The first time I started, I was substituted after 40 minutes due to my careless mistakes and poor performance. For a long period after that, I was not chosen to start," Ka-ming recalled.
This setback upset him but he knew that he shouldn't let it get to him. He picked up the pieces at once and concentrated on training. "You need to grasp the opportunity for yourself. No one has the responsibility to feed or please you." He made good his words by going all out in practice, for his sake and for the team.
Ka-ming's effort wasn't wasted, and he finally back into the starting eleven. "You never know how far you can go unless you pay continuous effort to unlock the potential." He has also come to understand the importance of team work and has experienced leadership. In March, 2016, as team captain, he led the City University of Hong Kong's football team to victory in the USFHK Men's Soccer Competition.
Undoubtedly, he finds football fulfilling, and it brings him lots of inspiration. As a graduate-to-be, he plans to embrace the soccer world instead of entering big business. He chooses to go his own way, and his determination never wavers. We wish Ka-ming every success. Sweat for it!

(April 2016)