BBA Marketing Student
Natalie Chan Chi-ying
It was way back in August, I was checking my email when I discovered that our school's first-and-ever Broadway Musical -- FAME, was looking for candidates to audition for a series of roles. This was honestly a shock to me, a music lover who thought that musicals were only reserved for the experienced and talented, my preconceptions were completely challenged. Within the next three months I became an active participant in the musical, developing an array of skills related to performance and collaborative art. In short, the experience had helped to fulfil the musical aspect of my life!
Let me start with this: You do not have to be technically perfect to be involved in music. In stereotypical thinking, business students have an non-existent relation to art. Or in other words, business students are "too busy to develop business mindset with case competitions and internships" and are therefore ignorant of the arts. For me, university is a place to dream, establish autonomous thinking and fulfil pipe dreams. So why give yourself a cage? Why be a part of social convention?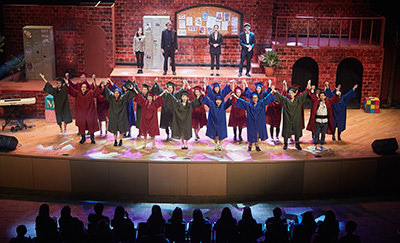 I have always had the temperament for performance arts. My curricular and extra curricular, secondary school time consisted of dancing, singing and acting. These activities were compromised when I made the conscious decision to pursue my future in business, switching my focus to the attainment of a place in business school in my university application -- In order to fulfil this ambition I prioritised business-related research and literature. After attending university, I found that music students were surprisingly professional and experts in their related fields. It made me feel inferior, and negatively impacted my desire to participate in music. Any kind of transition can be difficult, but starting musical practice was definitely the biggest adjustment I ever had to make. Therefore, I was scared and hesitant at the beginning of the audition period, as I hadn't practiced for three years and I was concerned that I wouldn't know what to do. However, my fears quickly evaporated after I was surrounded by the FAME family, a group of affectionate and talented actors (actresses), director and choreographer. The six-hour rehearsal period, per week, equipped me step by step. Our team grew organically with professional guidance and perseverance. As the day of the performance became increasingly imminent, an anxious atmosphere was developing within our team, in anticipation of performing on a real stage.   
The two-day, two hour shows truly fed my spirit and gave me the strength required to combat various difficulties. It was more than just the music. Instead, it was a presentation of my intrinsic efforts and passion to my beloved family and friends.
It was unfortunate that my time with FAME went by so quickly, as it truly was one of the best periods of my life. It was the realization of a cherished dream, an environment that felt truly naturally, and I grew immensely close to my fellow companions within the theatre. Regardless, I am incredibly happy that I made the decision to audition. I may express slight bias, but I think everyone needs an element of music in their life. Even if unrelated to music, I believe everyone should take the jump and try something new in university. I am immensely happy that I did, and now I am so eager to become more involved in music. So take the leap, who knows, you may just find a new passion. I myself, am already within preparation for the 2017 audition! How about you?
(Written by Natalie Chan. March 2017)