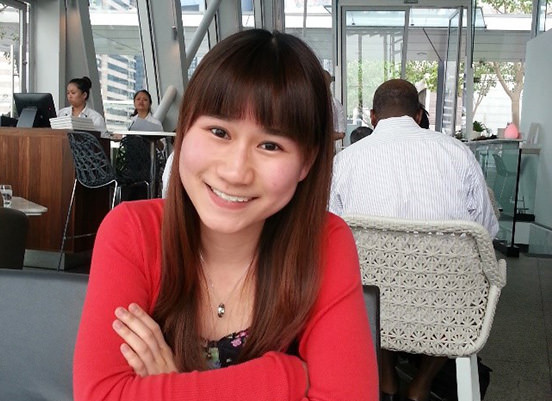 BBA Accountancy'17
Lydia Chan Hiu-wa
After sitting the Hong Kong Diploma of Secondary Education (HKDSE) examination, I felt like many other secondary school students: nervous and curious about university life. Now I am grateful that I have chosen to study at City University of Hong Kong (CityU), a good place for me to learn business knowledge.
Being a member of both the Young Scholars Programme and Accounting Scholars Programme, I was given many chances such as participating in study tours and mentorship programme, receiving trainings and joining internships. Talking about internships, I took part in two internships during my study, with one at the Inland Revenue Department and the other at BDO Limited (HK), a leading accountancy firm. They enabled me to learn about the real business world and shape my career goals. I was lucky enough to win two prestigious prizes – the Outstanding Intern of the Year Award and Best Intern Scholarship Award. These awards have inspired and motivated me to work harder to achieve my goals.
In addition to internships, my fellow students Mari Matsuda and Shaw Jun Wu Geoffrey and I joined a Corporate Governance Paper competition, which was organized by the Hong Kong Institute of Chartered Secretaries. This competition broadened my horizons towards the importance of corporate governance in a society; and more importantly, I understand that all of us are stakeholders and we should work closer for a better corporate governance altogether. Receiving tremendous support from teachers in the Accountancy Department and with the collaborative efforts from each and every team member, we won the first runner up for presentation competition and merit award for paper writing.
Apart from studying, I am passionate about Latin dance. I have been doing Latin dance for almost 11 years and I find it really enjoyable. As accounting students need to play with numbers all the time, we are often misunderstood as boring. However, as a Latin dancer, I would like to show people that accounting students can also be energetic and out-going. Latin dance and accounting are similar in a way that they are full of changes. You need to keep yourself updated. That's why I know I must keep moving forward and improving myself.
As I am going to be an auditor after I have graduated, I will try my best to perform well in my future job, and be humble and proactive to learn from one another. Other than developing my career, I hope that one day I can contribute back to CityU and society.
I would like to thank CityU for all the opportunities given me. I believe that being proactive to embrace every learning opportunity is a key to success. As chances do not come by easily, we should try our very best to seize every opportunity. And if opportunity comes, I would like to study overseas, because the world keeps changing and it is important to keep my eyes open. I am ready to be a life-long learner, are you?
(Written by Lydia Chan, July 2017)