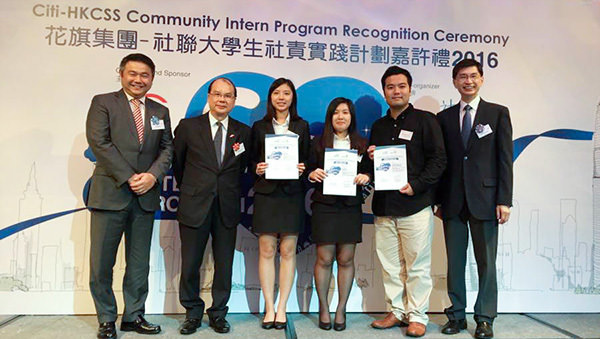 BBA Marketing student
Kemely Kwok Nok-sze
Citi-HKCSS Community Intern Program provides an opportunity for students to contribute their business knowledge from classroom learning to non-profit organizations to help them achieve goals. During the placement period, I worked as a marketing assistant in "Sharing Kitchen", a social enterprise under a Community Development Enhancement Fund Limited.
Sharing Kitchen aims to recruit grassroots persons who have enthusiasm for cooking. By making use of the kitchens of six existing restaurants during nonpeak hours, the food produced will be sold on-site. In a competitive business environment, it is difficult to startup businesses easily because of expensive rental and high catering costs. Sharing Kitchen not only alleviates labour shortage of the restaurants and helps develop new products and increase revenue, but also boosts the confidence of the grassroots activists and motivates them to work and earn a living.
My responsibility was to increase the brand awareness and build the brand. I accomplished several projects. One of the highlights was the "Mooncake project". As a marketing assistant, I had to formulate the whole marketing plan. I was in charge of making all the packaging and promotion decision.  We used social media to do the promotion, like the interactive post, live video on Facebook, and cooperated with food bloggers on Instagram. For the offline promotion, a mooncake trial event was held in Mongkok aiming to boost the mooncakes' sales and deliver the brand message to the public. Apart from that, a traditional seafood restaurant was willing to provide the kitchen for us to operate up to midnight. Thus, we came up with a creative idea, holding a "Tung Chung Cooking Competition" to attract residents to participate. The idea received favorable feedback and greatly generated public awareness.
In our society, lots of resources are not fully utilized by individuals, companies and the community. The sharing economy concept is practiced in some foreign countries. People loan out their leisure resources not only helping others but also themselves to use resources in a more efficient way. It would be great if more parties can practice this concept, so as to create a triple-win situation.
(Written by Kemely. April 2017)