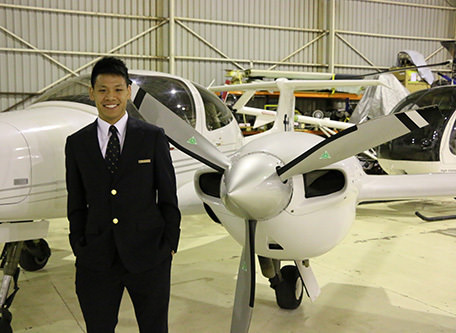 BBA Business Economics'14
Wilfred Ma
I am looking forward to my new life because I can finally let my passion fly! I am about to start work as a Second Officer for Cathay Pacific Airways. My very first flight will take off soon and I can't wait to discover this new world.
At the very beginning I knew nothing about flying. Being an airline pilot as my future career was a distant dream for me. I am a grass-roots boy who grew up from an ordinary family living in a public housing estate. Although I was keen on flying, I knew that my family would not be able to financially support me through the aviation training courses. But this didn't matter- I believed that nothing was impossible, as long as you have faith. At that moment, the tiny me looked up to the sky and imagined: what if I can fly high one day?
Finally, it was no longer an empty talk. From ground to sky, I made an extra effort to shorten the distance. I eventually reached my goal by joining Cathay Pacific's Cadet Pilot Programme and trained in Adelaide. After experiencing the perspective from this paranormal view - the ultimate high was extremely awesome. This took me to a place I'd never been.  A sense of achievement led me further along my path to the skies.
I believe I can fly
I started my preparation by applying the Cathay Pacific Cadet Pilot Programme during my studies at university. Luckily, I was not alone. My schoolmate Walter was my peer, and together we formed a study group and supported each other whenever needed. I felt blessed that we had both been selected to be the lucky ones and fly high in the sky.
Recalling the interview session, the question of "Why would I employ you?" was a challenging one. But I had a confident to answer it. With a mature and responsible personality, I felt I was independent enough to take care of the passengers on plane. That responsibility is massive, and can never be forgotten since the lives of three hundred passengers are in my hands.
As a pilot, staying alert at every single moment is crucial. I was a member of the athletics team in school. Now, I do gymnastics to keep myself physically strong. Added to that, a thirst for knowledge and self-improvement has always been at the top of my priority list.
"If you don't keep up you'll get left behind." 
This always comes to mind, reminding me to keep my passion. The road ahead is an unknown adventure, but I embrace the world with no fear.
(Jan 2017)