BBA Accountancy
Carina Hao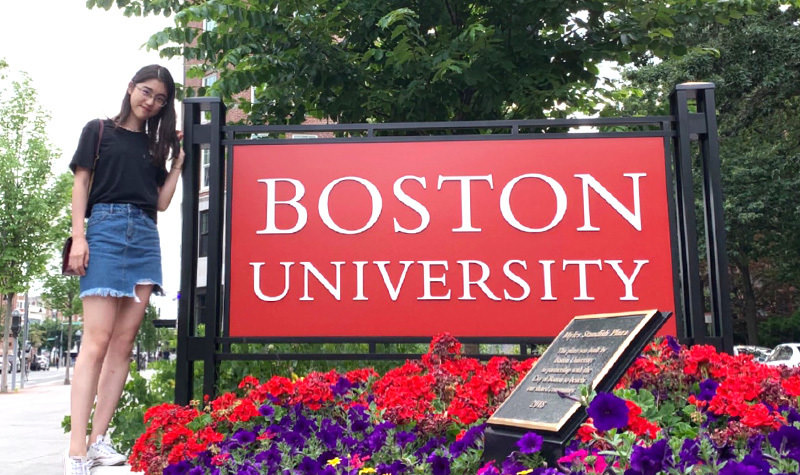 Carina joined the study abroad summer programme in Boston University. Here she shares about her study life in Boston and some tips for students who are interested in the programme.
I had always wanted to join the Study Abroad – Boston programme. It offers a wide range of courses and activities in one of the oldest cities in the United States. The six weeks I spent in Boston still feel like a dream come true. It gave me a precious opportunity to explore the world, to meet new people and to learn new things. 
Campus Life
I enrolled for two mathematics courses  in the summer semester, and the workload was heavier than I expected. The classes met four times a week with each lesson lasting for 2 hours. Homework was due twice a week and students were expected to take 10 hours on each subject. There were two midterms and one final for each course, and the final did not take up a large percentage of the total grade at just about 40%. So, you must be serious about every assignment and exams! The arrangement for the class made me feel it was a period I really get to learn things seriously, instead of spending all my time being a tourist in the city. 
Boston has probably the best educational resources in the USA with so many universities. The professors I met were both very knowledgeable, professional yet approachable. I enjoyed talking with them since they were always patient and willing to answer any questions you raise. I think the most important class I learned at Boston University was to be brave in asking questions. Even though sometimes you might feel stupid about them or think they will make you lose face, there is nothing more important than learning and understanding things you didn't know before. At Boston University, no matter professors or students, they never show they are impatient or laugh at you when you have doubts. I believe after this Boston trip, I will always keep this in mind - don't be afraid to ask questions and always listen respectfully when others raise theirs.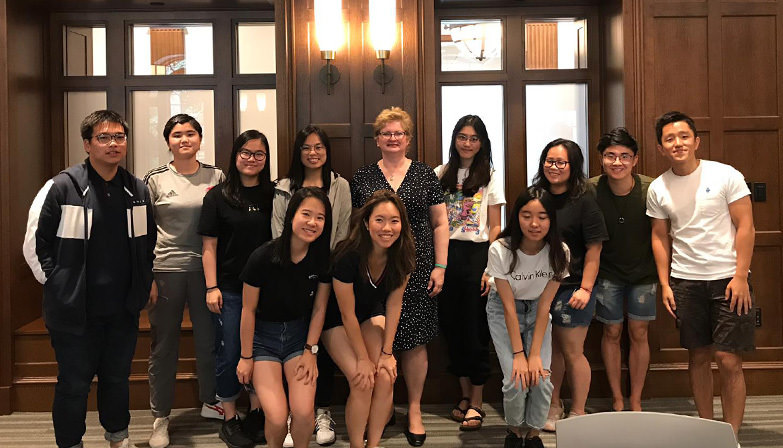 Learning Atmosphere
I found the teaching and learning atmosphere very encouraging. The US education system encourages life-long learning. Not like back in Hong Kong, where we are in the classroom with our same age peers, who have similar education backgrounds. In the Boston classroom, there were older people who came to study multi-variate calculus just because they love math. There were also talented high school youngsters who spent the summer learning university courses in advance. A brilliant surgeon who wanted to be better equipped with math also joined the class. No matter what your background, or how old you are, people are encouraged to be involved in university class again for self-improvement. The atmosphere welcomes and embraces all students.
Explore the City
Though this was not my first time visiting the United States, I had never been to Boston before.  I fell in love with the city the minute I got out of the airport. It is not that busy or crowded like New York. With all those ancient buildings and the peaceful yet shining Charles River, the city made me feel very relaxed and joyful. 
During the trip, I went to the north point which is also known as Little Italy to experience a European style weekend. I went to Boston Public Library to study, surrounded by all the fascinating sculptures and paintings. My friend and I ran to the Prudential tower after dinner only to catch the beautiful sunset and appreciate the night view. We also visited Harvard and MIT. The weekend I enjoyed most was a trip to a little town called Ogunquit with a beautiful seaside and delicious seafood. I got the chance to see how American families spent their weekends by going to the beach, when mom was preparing sandwich for picnic, dad and children ran and played ball games on the beach. There were also so many people lying or sitting on the beach reading books. Reading seems to be a cultural trend in Boston. People don't stare at their phones all the time no matter on bus, train, or leisure time, but they always have a book with them. I like the Boston lifestyle, especially the relaxing weekend with reading.
Kindness of People
I feel so lucky that I met so many kind people in Boston. Hong Kong is a very busy city. People live their lives at a very fast pace. But in Boston, I learnt how to slow down and enjoy the interaction with people and the beauty of life. 
I remember that when I first got there, I had some trouble in recognising coins. Whenever I was struggling with them, the cashier or the customers never rushed me. I asked the cashier just to take whatever coin he needed directly from my purse, but many times there were people behind me saying, "No worries, take your time." Gradually, I not only got familiar with the coins, but also turned around to have a short conversation with the people behind me. For a visitor, just a few words like this would make you feel that the city and the people welcome you and it was very kind and warm.
Tips for future SA-BostonU Students
What I want to tell future SA-BostonU students is to treasure and enjoy every moment there. You need to seize your chance to walk on those beautiful streets and in those old elegant building. You also need to pay attention to the wandering turkeys in front of the libraries of course! But the most important thing is to treasure the communication process at BostonU, don't be afraid to share your thoughts, don't be afraid to ask questions in class and don't be afraid to talk to people you will meet there. It is a super nice city with kind and cheerful people!