BBA Finance student
Anthony Hung Chin-chi
Anthony is taking a year off to learn on-the-job. He worked as an intern at Alpha Quant Financial Technology, a proprietary trading startup, and is currently an intern in the Institutional Equity Division of Morgan Stanley Hong Kong.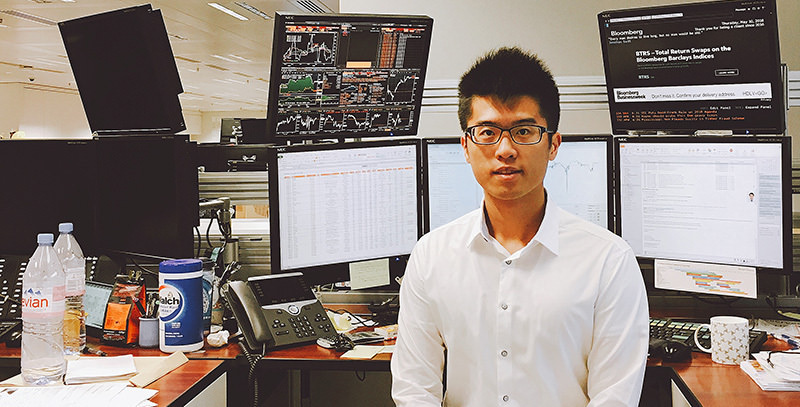 "Macro Patience, Micro Speed" – Gary Vaynerchuk
It's one of the inspirational quotes for me. Too many people wish to achieve something big in a short period of time, while still doing nothing but sticking to their routines. However, it does not work. When I was a fresher, I knew that trading was my aspiration. I was patient enough to take a gap year to learn on-the-job. Undoubtedly, it was the best decision I have ever made…
Proprietary trading
During the first half of the year, I interned at a proprietary trading startup. Working closely with the founder Michael, I learnt more about the business, from strategy development to live trading management. More importantly, I felt the power of technology. The firm employs ultra-low latency networks for high-frequency trading, mainly trading the warrant market. Technology definitely provides an edge in speed, execution, signal generation and much more.
As an intern I enhanced the technical analysis library and explored the new market – the Chinese commodity market. By the time I left, I had a live strategy running across rebar futures, egg futures and soybean futures. Under the flat management structure, the learning curve was continuously steep as I learnt new concepts and ideas every day like algorithm optimization and warrant market mechanism. The skills developed are practical for me to add value in the future.
Equity derivatives trading
Now, I have moved to the sell-side, working in Morgan Stanley as an intern. I am sitting across exotic and single name options desk. A bit off from my expectation, but I can work on hands-on projects like enhancing volatility fitting models, which are used by traders on a daily basis. Also, I receive 1-on-1 teaching sessions from traders to know more about options trading from the bank's perspective. There are various ways to express your views through trading options. For example, if the volatility is expansive and the market is bearish, put spreads can be a feasible strategy.
In my day-to-day life, I assist in trade booking, trade reconciliation and tool development. Though it's a huge investment bank, we are open to innovative ideas from everyone as we believe that's how synergies work. Now, it's more than a half way through the internship and the learning process is still on-going!
My words
Start exploring and planning! Do not overthink as there's no perfect timing to start something. Be ambitious and stay humble. When you are young, you are like a sponge. It's the best to keep absorbing the knowledge.
"Shoot for the moon, even if you miss, you'll land among the stars." – Les Brown 
 
(Written by Anthony, July 2018)