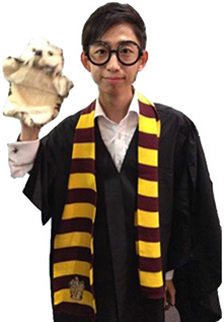 BBA Electronic Commerce'12
Freeman Chan
"Day 1 of my first full-time job— I wasn't too sure what to do." Freeman Chan said. He is a Graduate Executive at the DBS Bank. His first project was to produce a training manual that records the internal processes of the 8 teams in his department. He was given the project deliverables, a rough draft of another department's report, and 6 months' time to work on this assignment. With little to no experience, limited information, and working alone, how did Freeman cope with all these challenges ahead?
The FIRST step was to understand the company. "At the start, I spent most of my time researching, digging into the company's databases, and exploring its resources." Freeman combined his IS knowledge along with his personal experience to determine the content of the report.
It may seem impossible to finish a detailed training manual with 8 sub-reports within 6 months, but Freeman is confident and believes that he has the ability to complete this task.
The SECOND step was to build relationships with his colleagues for advices and documentations needed in the report. "It was challenging at first. No one knew who I was or what I was doing." He said. Even Freeman himself cannot clearly explain what documentations he needed since it was all at a conceptual stage.
Despite having the rough start, his "never-giving-up" attitude over the progress made his colleagues realize what he has been doing, and they have been more willing to cooperate with him. Freeman's interactions with others added to enhance the team's relationships. In 5 months' time, he has completed 7 team reports, and 1 remaining to be completed shortly.
Believe in your ability to succeed in things that you have never done before. Understand that everyone has their priorities in life. Be appreciative if they are willing to help; be considerate if they don't.
Words of Advice
"Find your career goal early in your university years; the goal does not have to be specific, but should have a general direction of where you want to go in the future. Use elimination method to narrow down what you want to explore; you never know what you like until you try it!"
— Freeman Chan (freeman103hk@hotmail.com)
( Jan 2013 )