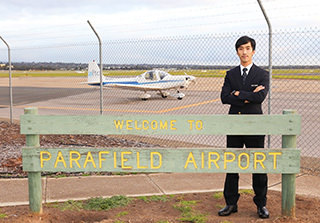 BBA Service Operations Management'12
Walter Lau
Walter Lau, Cathay Pacific Cadet Pilot, is in the midst of his 55-week long training at Flight Training Adelaide (FTA) in Australia. He is working hard to make his pilot dream come true. 
How it all began
Walter never thought of becoming a pilot in his teenage years. It was not until his graduation that this idea was developed.
His first job was a graduate trainee at the Hong Kong Aircraft Engineering Company (HAECO), a company that specializes in aircraft repair and maintenance services at the Hong Kong International Airport. Walter was required to develop strategies to improve the safety level of a plane and standardize such procedure.
"I was able to stand on the wings of a plane and overlook it from a new angle. It was especially impactful." Walter recalled. That very moment ignited his desire to be a pilot.
The passion grew day by day. "Can I master something else other than the business-end?" he wondered.
Journey to the sky
"I graduated with a business degree, but this will not stop me from working in other industries," he believed that academic qualifications should not be a limitation for what you want to pursue in the future.
With no previous knowledge in the aviation industry, Walter applied for a pilot preparation course taught by a former pilot of Dragonair International Airline Company. While studying part-time, he worked as a management trainee at The Hongkong and Shanghai Banking Corporation (HSBC). "Everyone has his own strong points; you always have something to learn from others, for instance, to learn the technical skills from one person and people skills from another."
After completion of the preparation course, Walter resigned from HSBC to devotedly prepare for the interview of the Cadet Pilot Programme. He formed study groups and conducted mock interviews with friends he met along the way.
Two years of preparation for the programme finally ended. Walter was ready to impress the interviewers. "If I am clear about my vision, I should be able to achieve it," Walter believed.
Cathay Pacific Cadet Pilot Programme
There is a myth that one must have a perfect vision in order to become a pilot. "As long as your vision is correctable, you can become a pilot!" Walter said, with -6.00 dioptres (600 degrees) of myopia.
According to the Swire Pacific 2013 Annual Report, it takes over HK$1.2 million to train up a cadet. There are five stages in the interviewing process:
COMPASS aptitude testing, Reasoning test , Job knowledge test and interview
You need to understand an airplane and how it operates
Group exercise, Flight Planning assessment, Professional Profile, Aptitude test, and interview
First interview with Human Resource and group exercise
Aircrew medical, English language test
Body check for health and fitness, i.e. height, arm and leg length, etc.
Panel interview
Second interview with Human Resource Manager and senior training captains
Flight grading assessment
Complete up to ten hours of flying in FTA, Australia
Cathay Pacific will set a target number for cadet admission each year, but they will not compromise the standards in order to meet the target nor will they reject qualified applicants if they all perform satisfactorily. For example, if Cathay Pacific plans to admit 20 cadets in one year, they will hire 10 if only 10 are qualified; if 30 are qualified, they will find ways to hire them all. There are roughly 4,000 people applied every year and around 10 are finally hired, per estimation made by Walter.
At the interview
Applicants will be asked questions based on their background, a set of questions similar to those of management trainee programme. For example, why did you choose this major? What did you learn, and what are your strengths and weaknesses? "They want to see if you know yourself, and understand your thinking process," he added.
Most challenging set of questions
Did you apply for other airlines/Cadet Pilot programmes?
"Yes, I have also applied for the Government Flying Service (GFS)," Walter answered with no hesitation.
Which programme do you prefer more? 
"Cathay Pacific." This was an obvious answer, if one is at the interview of GFS, the answer would no doubt be GFS, Walter thought to himself.
If you are now sitting at the GFS interview, what is your answer?
"If I am at GFS, I would say GFS." It is a matter of honesty, and Walter stays true to himself.
Then do you think you are lying?
"I don't think I am lying because I want to become a pilot. I am only trying to increase my chances to succeed." Walter said confidently and the interviewers were convinced.
A 'Must' criterion for a Pilot
"Passion – if you really want something, you will overcome all the barriers until you have reached your goal."
Passion is the key that keep you moving on even after 20 years of piloting. "And along the way, you would want to help others who are also passionate in what you believe in." Walter added.
Becoming a pilot is no longer a dream for Walter; he is working step by step to achieve it. Are you ready to realize your dreams?
Words of advice
"Believe in yourself. The sky is the limit."
– Walter Lau
 
(Sept 2015)