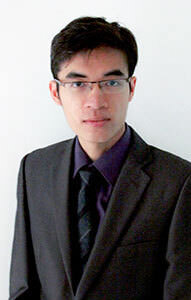 BBA China Business'13, Master of Law in International Political Economy Candidate, Peking University
Francis Lee
"I believe in synergistic effect – that is applying what I have learned in the past to the present,"
– says Francis Lee, BBA in China Business. Francis finds that there are strong links among his secondary school experience, life at CityU, studying for a master's in Beijing, and starting his own business at the age of 25. A careful look at your interests and strengths can positively affect your next career move.
Life-changing opportunity
Francis's accumulated extra-curricular experience brought him to mainland China. Having met friends from different parts of the globe in his secondary and university years, he was optimistic that "China will become the leading country in global development".
Then while at CityU a life-changing opportunity came up – the Beijing Government Scholarship scheme. Francis heard of this scheme in his second year. It offers non-Chinese nationals a partial or full scholarship to study in universities in Beijing.
Identifying strengths
When he first started his master's study at Peking University, with his Hong Kong background, he was confident of his competitiveness. But he soon discovered that mainland students had excellent social and political contextual knowledge. They could for example cite world events to support their points of view on the go, a strength that he lacked. He suddenly felt less confident.
"How can I make best use of my knowledge and past experience so that they are not wasted?" Francis asked himself repeatedly. For a period of time he struggled in search of an answer. He went to numerous social gatherings and talked to many people, old and new friends, and slowly came to a conclusion:
Thanks to the unique education system, Hong Kong people have strong planning and execution skills. Francis decided to leverage this strength.
Path to entrepreneurship
"I found that creativity, branding, arts, and innovative work from Hong Kong have a higher perceived value in the mainland," Francis commented. "My classmates and I can see that the market is here. We have made use of this added-value to start something in arts and culture; bringing in different talents from Asia to produce an exchange of the creative arts between Hong Kong and mainland China," he added. At first, he worked within the university, where he built a strong network. Slowly he recognised that this could be the beginning of a business opportunity.
Getting seed funding
The environment in China helped support Francis' entrepreneurship, as there is ample seed funding available in three places: in universities, at provincial level through the Beijing Government, and through angel investors in the private sector.
Funding of up to RMB one million - along with free office space - is available to those who have innovative ideas, a convincing team, and can project themselves as market competitive.
Francis received initial funding from Peking University and started his Creative Art and Culture Institute with his fellow Hong Kong classmates, promoting the exchange of creative arts among Hong Kong, mainland China, Taiwan, and Macau.
Francis remains positive on China's future business opportunities.
Words of advice
"Think how your previous experience may help you - and also consider how your decisions now will affect your future."  
– Francis Lee
(May 2015)
Contact: francis.kwf.lee@gmail.com