BBA Marketing student
Christine Po
Christine worked as an intern at OpenRice Limited in the summer of 2017.
Last summer I worked as a marketing intern at OpenRice Limited. I guess it is a dream job for every girl where you can taste all the best dishes, however, my work at OpenRice was not just about food and beverage, but about the food and dinning culture in Hong Kong.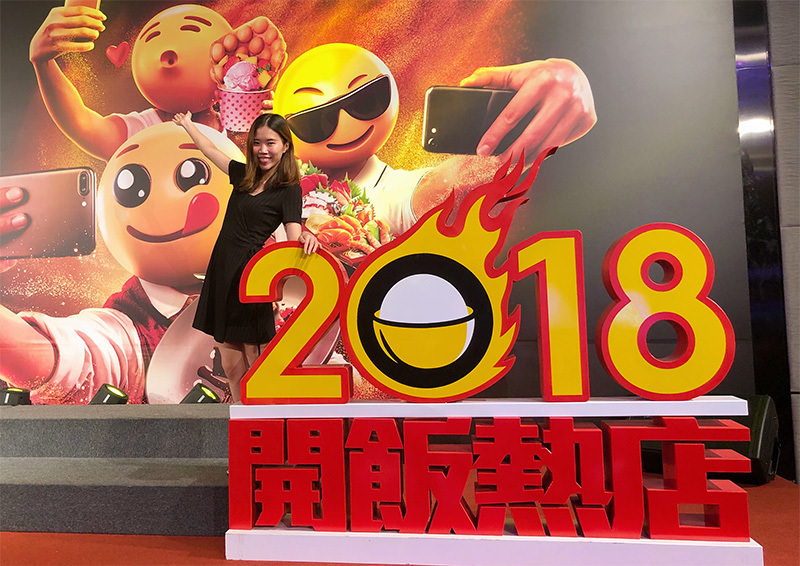 Let your thoughts flow
One of the mega projects that I was involved with during my internship was "OpenRice Best Restaurant Award 2018". This was a marketing campaign which the company had been organizing for more than 5 years, and in each year they had come up with different themes and ideas. For this year, me and my colleagues developed the term "Foodji" to promote the idea of Hong Kong food and dinning culture, and encourage our users to use "Foodji" to express their feelings.
As an intern, I would say this project was an eye-opening experience since I was in-charge for conducting media planning, design and production and looking after sponsorships and promotion partners. When it came to our big day, "Best Restaurant Award Prize Ceremony", I had a chance to meet the owners or senior management of the 100 most popular Hong Kong restaurants. Our campaign was even featured on NowTV. The whole campaign was a great success and it was also a milestone I achieved at the company.
Do not underestimate your contributions  
As an intern I was the most junior staff. As a result most of the time I could only observe and conduct routine work. However, I regarded these as valuable chances for me to learn from my coworkers and see how they interact, talk and dress. I still remember during the first week of my internship, half of the time was spent on photocopying. You might say, being the Chief Printing Officer (CPO) at the office must be boring, but it was a great chance for me to read through and understand what a restaurant contract looks like and the application procedures for becoming the company's partner. I never looked down on my job duties as there is no fast track to success.
Prior Preparation Prevents Poor Performance
When my internship journey entered into the mature stage, I had the chance to get involved in the decision-making process of the marketing team. Autonomy always comes with responsibility. The first time I had the chance to attend a business meeting to liaise with the CEO of one of the largest telecommunication companies in Hong Kong, my colleague suddenly had to be absent from the meeting so I was the only one presenting OpenRice and our business ideas. I was super nervous and shocked in the first instance. However, I calmed myself down and strengthened my self-confidence. Luckily, I had revised the presentation materials and terms of the contract the night before, and I successfully closed the deal after the meeting. This small incident taught me the importance of the 5Ps, "Prior Preparation Prevents Poor Performance". These are definitely great words to live by since you never know what is happening next in the ever-changing business environment. I always imagine if I hadn't done the prior preparation the night before, I wouldn't have closed the deal and gained trust of our partner. When the opportunity comes, I need to be 100% ready to meet the challenge.
Always carry a thankful heart  
I still remember my last day at work was a tough day, not because of my workload but my attachment towards the company. I am very thankful towards my colleagues who gave me tremendous support. Their openness to new ideas and strong team spirit has empowered me to be a more creative person. During my internship, I met colleagues who truly helped me to evolve and get myself ready for society. I think it is always easy to find someone who will say something good about you, but not someone who will give you deep feedback. Challenging feedback can be difficult to hear, but they are invaluable for improving your skills.
(Written by Christine, July 2018)